Ex-McLaren driver David Coulthard has spoken about the famous Ron Dennis "fear factor" when he used to run the Formula 1 team.
Dennis was team principal at McLaren from 1981 to 2009 and, during his tenure, oversaw 10 Drivers' World Championships and seven Constructors' World Championship to help solidify them as one of the greatest Formula 1 teams of all time.
As the current McLaren regime tries to bring back the glory days, Coulthard has spoken about the influence Dennis had in rebuilding the team and modernising their methods.
"He had a clinical approach," Coulthard said via Channel 4.
"When he started his career as a mechanic he didn't like people having dirty hands. That whole approach to how the cars are prepared was a vision to be more science-driven rather than the old greasy garage method.
"There is no question that he set the tone. He expected a motivated crew to be there fully delivering on their skills.
"The world has changed but in many ways you can say he ruled with a fear factor.
"If he saw someone in the garage with their hands in their pockets he would say 'I don't pay you to stand around with your hands in your pockets', there was always things like that.
"He had such a clear vision of what he expected and had such high standards that it had everyone slightly on edge."
While Dennis may have had staff members on edge at McLaren, Coulthard thought he was an excellent team boss.
"No I wasn't scared of him, he was a great boss and great with the drivers," Coulthard added.
"His vision for the drivers, which was probably driven by what he had seen with Prost, Senna and the greats of that era when he was first running teams, was that he wanted you either in the gym, in the car testing or developing, or he wanted you lying on a beach somewhere to just enjoy life.
"So I thought 'hey, that contract seems pretty good…and you get paid!"
Get your hands on the official McLaren 2020 collection via the Formula 1 store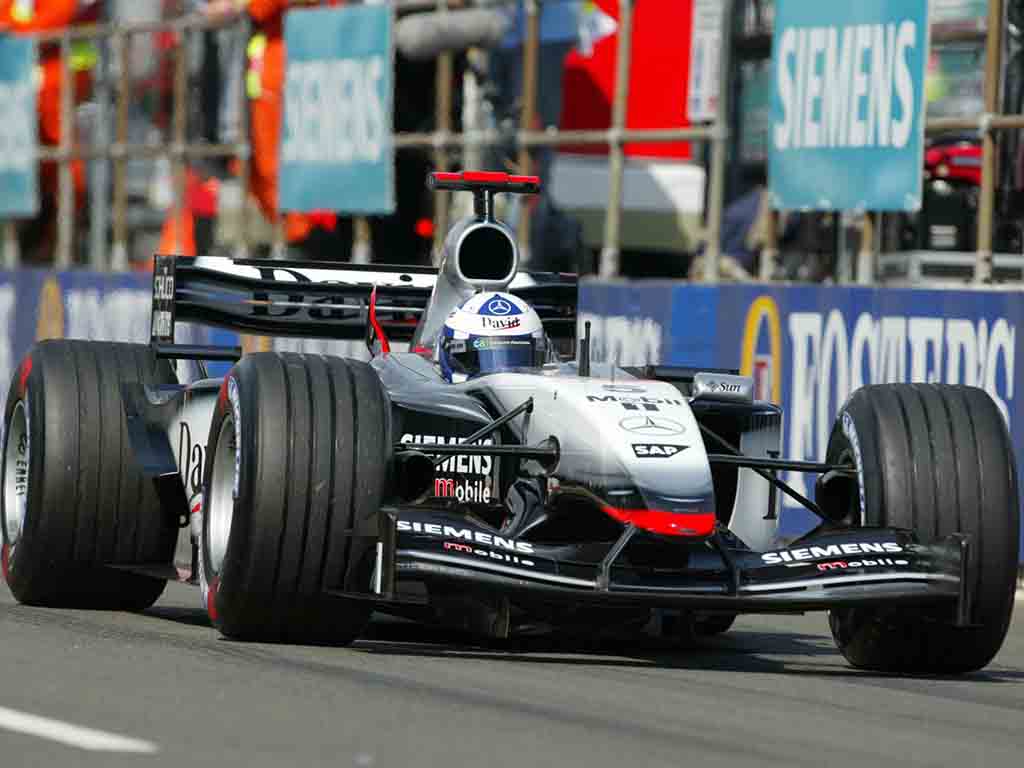 Seeing as we are on a trip down memory lane, let's remind you of the time Fernando Alonso wound up Dennis with a big juicy peach during his McLaren days.
"[Ron's] very precise about everything equal," McLaren's former head of communications, Matt Bishop said via Natalie Pinkham's 'In The Pink' podcast.
"He admits to being 'OCD' about cleanliness.
"And one of the things he absolutely loathes above almost everything else is people who eat juicy fruit without a knife and fork.
"So if you're eating a nectarine or a peach or plum, Ron wants you to put it on a plate, have a sharp knife, steady it with the fork, cut it with a sharp knife and then put small, neat pieces of the fruit into your mouth with the fork.
"Fernando arrived with, I think, the largest and ripest peach I have ever seen.
"And he just sat next to Ron [slurping] like that and letting all the juice run down into his beard and leaving the bits of fruit pulp in his beard.
"Not everybody present would have known quite how painful Ron would have been in finding that but believe me, Fernando did. Fernando was definitely on a number then with Ron.
"But that's Fernando. Fernando is a great driver. Great driver. He's also an operator."
Source: Read Full Article