It's a very racy week in the GT Sport Daily Races. For the first time in a very long while, there's no road car presence at all, with all three events using full-on racing machines. That doesn't mean Polyphony Digital hasn't taken a chance to experiment though…
Race B ticks the "standard" box. This is by far the most traditional of the events, with players invited to pick from their own stable of Gr.3 cars and head to Brands Hatch. It'll be a fast-paced race, with Racing Medium tires and no fuel or tire burning involved, just five laps of hard racing.
Over at Race C, that's all turned up to 11. You'll head to Suzuka to blast round 10 laps in the Red Bull Junior. These 450hp/ton beasts were the best-sounding cars in Gran Turismo 6 and have carried all of their best qualities to GT Sport too. Heavy, 15x tire degradation may result in some pit tactics at play.
However it's Race A this week where the strange things happen. On the face of it there's nothing too out of the ordinary: four laps of Autopolis in Gr.4 race cars. This week though, it's a provided car from a choice of four. You'll get to drive either the Audi TT Cup, the Peugeot RCZ Gr.4, the Renaultsport Megane Gr.4, or the Volkswagen Scirocco Gr.4. Keen racers will spot that this is all four of the front-wheel drive Gr.4 cars in the game.
All three races will run through to Monday, June 3.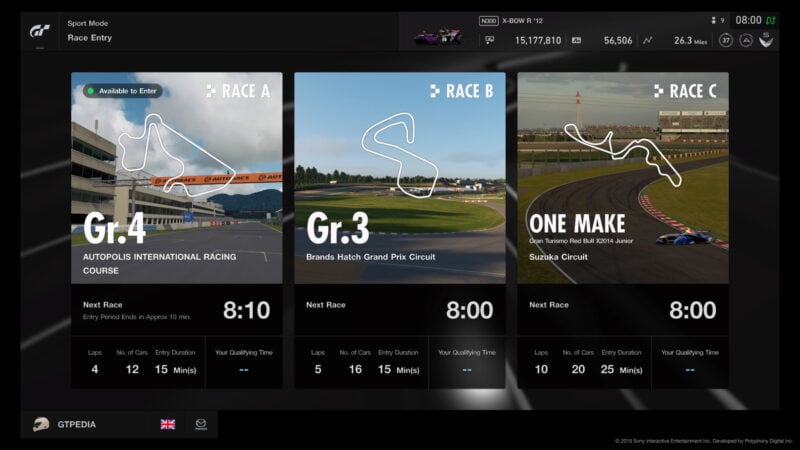 Race A
Track: Autopolis International Racing Circuit, 4 laps
Car: Gr.4 – Provided Car
Tires: Racing Hard
Fuel use: Off
Tire use: Off
Race B
Track: Brands Hatch Grand Prix Circuit, 5 laps
Car: Gr.3 – Garage Car
Tires: Racing Medium
Fuel use: Off
Tire use: Off
Race C
Track: Suzuka Circuit, 10 laps
Car: Gran Turismo Red Bull X2014 Junior – Garage Car
Tires: Racing Hard
Fuel use: 3x
Tire use: 15x
Source: Read Full Article