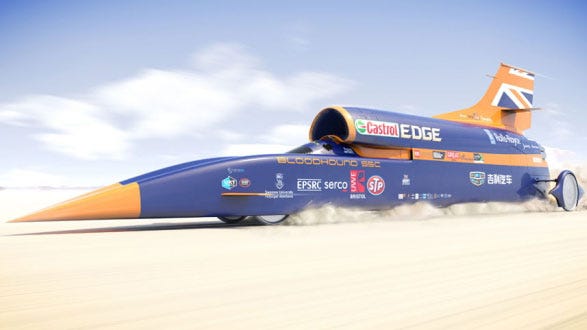 The Land Speed Record has moved steadily upwards, from the 39 mph set by Frenchman Gaston de Chasseloup-Laubat in an electric Jeantaud back in 1898 to the 763 mph Thrust SSC achieved in '97.
Yet nearly 24 years later the record seems to be at serious risk of being stuck there forever. The UK-based Bloodhound project that had created a car targeting 1,000 mph through the combination of jet and rocket propulsion went bankrupt in 2018, having never run the car at more than 210 mph on a British airport runway.
Now the man who saved Bloodhound from the scrapyard then is also stepping aside, putting the project (and the car itself) up for sale. Ian Warhurst had recently sold his successful engineering company when he bought Bloodhound, and put a significant amount of his own money taking the car to the Hakseen Pan in South Africa, a salt flat where – running exclusively on jet power – the car managed a top speed of 628 mph. But getting beyond that requires the extra assistance—and huge expense—of a secondary rocket propulsion system.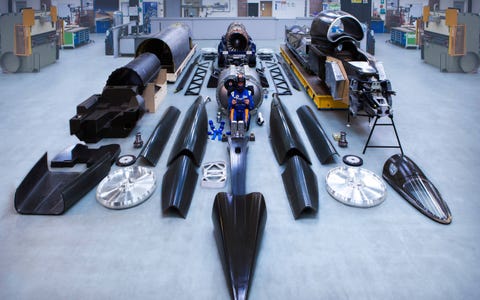 "I've not got the choice but to let somebody else have a go at it," Warhurst told Autoweek, "I can't put me hand in my pocket and pull out another £8m."
That's the amount—around $11 million—that the Bloodhound team reckon it will take to reach the 1,000-mph barrier. Warhurst has been trying to raise funds since he took control of the project, and reckons he was making good progress until the global COVID pandemic arrived. "The sponsorship industry has just died," he says, "I can't take it any further, which is why I hope somebody else can."
The big issue is the same one Bloodhound's previous owners encountered: the reluctance of individual sponsors to sign up until they know the project has the funding necessary to make a serious challenge on the record.
"The ideal scenario is that somebody comes on board who is wealthy enough to guarantee the money," says Warhurst, "once we've got that we can restart the project and get it moving, and also go out and raise sponsorship on the basis that we are going to get it done. The irony is that the person who guarantees the total likely won't have to reach nearly as far into the pocket, because it will be covered by sponsors by the time we get back to the desert again."
"I'd be lying if I said it wasn't frustrating, but I certainly don't have any regrets," he says, "going to the desert in 2019 was one of those 'money can't buy' experiences. It was fantastic to get out there and prove its potential, to stand 20 feet from a running EJ-200 jet engine. You don't do that everyday."
It's a familiar story to Richard Noble the man who led Bloodhound until its first bankruptcy, and who set a Land Speed Record himself driving Thrust 2 in 1983.
"Ian deserves huge credit for having saved the car," Noble tells Autoweek, "the administrators were going to physically cut it up because the Ministry of Defence wanted some of the internal components back. That would have been a tragedy—and Ian was the man who stopped it from happening."
Noble left the project when Warhurst took over, but says anybody stepping into save it again will have his full support.
"Of course I hope it has a future. There's a fantastic team of people, and Andy Green is a brilliant driver," Noble says, "It's really capable of getting over the line, it's just a simple matter of money, that's really it."
Noble also agrees with Warhurst's view that if Bloodhound can find a backer able to underwrite the whole project, other funding would soon follow. "The UK is a wealthy country, we've got the fifth largest economy in the world and there are lots of millionaires floating around," Noble says, "and the sponsors would then say 'it's clearly going to happen with or without us' and then get on board. I think if the right person was to come forward an awful lot of us would be very glad to give him or her every hand."
For his part, Warhurst reckons that anyone with the wherewithal to get Bloodhound to its target will get themselves a bargain in terms of its potential for global publicity.
"We got a 14:1 AVE (Advertising Value Equivalent) in the coverage we got for the first run in the desert," Warhurst says, "most big audience sports games are doing well to get 8:1. If it actually gets to a Land Speed Record that would go much higher, it would be something that pretty much everyone on the planet would want to see."
Source: Read Full Article