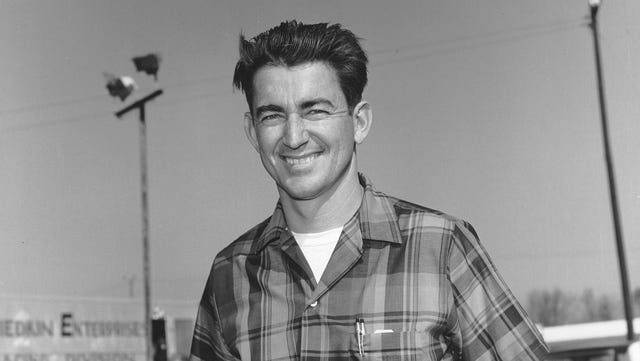 It can be argued that no family in American sports has enjoyed more giddy highs and endured more excruciating lows than the Allisons of NASCAR fame. Indeed, maybe no family in the world.
Bobby Allison won 84 Cup Series races, including three Daytona 500s, three Coca-Cola 600s, four Southern 500s, and four at Talladega. He was the 1983 NASCAR champion after being runner-up five times, including the preceding two seasons. He was a fiercely competitive, oft-time bullheaded, no-nonsense, straight-talking driver who neither gave nor sought unreasonable favors. To this day, 33 years after his last race, the 83-year-old remains revered by fans across all generations. It was a universally cheered, highly emotional moment when he joined the NASCAR Hall of Fame in 2011.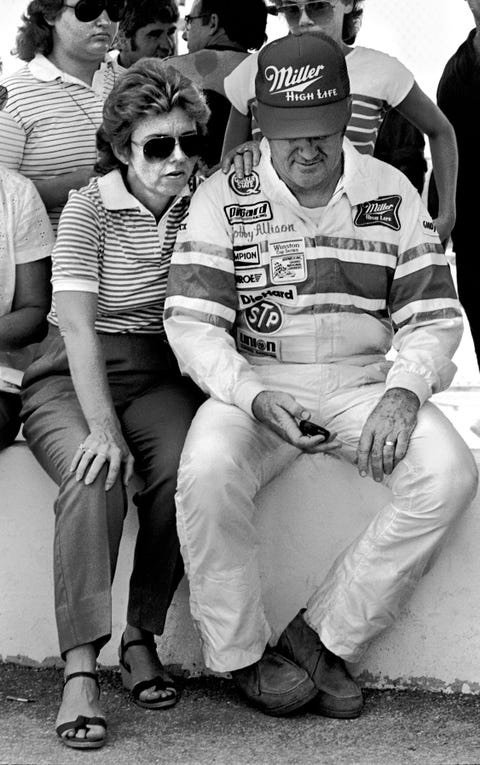 But it's never been all sunlight and roses for the deeply religious family man from south Florida and Alabama.
He and his late wife, Judy, lost one son, 27-year-old Clifford, in an August 1992 Xfinity Series practice session in Michigan. They lost another son, 32-year-old Davey, in a July 1993 aviation accident in the paddock at Talladega.
Bobby's career ended at age 50 in a first-lap accident in June of 1988 at Pocono. He almost died from injuries—a priest was summoned for last rites—that required multiple surgeries, 108 hospital days, and lengthy rehab. Extensive head injuries took much of his memory, and he still has issues with speech and mobility.
And piling misery upon misery, his beloved wife of 55 years, 74-year-old Judy, died quite unexpectedly from post-operative complications in December of 2015 in a hospital in North Carolina. (They were estranged for several years after losing their sons, but reunited in 2000 and relocated from Alabama to a modest lakeside home in Mooresville, North Carolina). Younger brother Donnie, a former Cup driver, lives nearby, as does Bobby's daughter, Carrie, and her family. Another daughter, Bonnie, still lives in Alabama with her family. He has a wide circle of friends, but lives alone with his surviving memories.
Despite the tragedies, he still embraces racing.
"Racing has been good to me in a lot of ways," he told noted journalist Don Coble several years ago. "It's been very unfortunate in other ways. The way I look at it, life, not racing, has presented me with some difficult times. I don't think there's anything wrong with the sport. My feeling about life and death is this: Life is a gift and death can come at any time. You can't do anything about it."
Like so many racers in NASCAR's early years, Allison's first Cup Series victory barely made headlines. It came on the third-mile paved bullring at Oxford Plains, Maine, about as far from his Southern roots as could be. The Oxford 300 in July 1966 was the third stop on NASCAR's annual Northern Swing that also included races at Manassas, Virginia, and Bridgehampton, Fonda, and Islip in New York.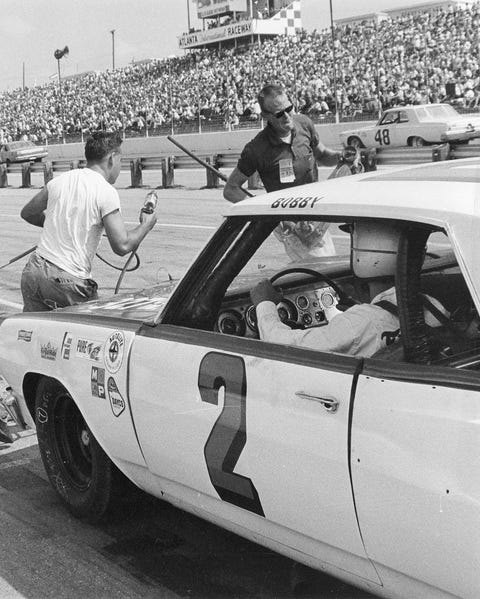 Allison started on pole but finished a transmission-related 15th at Manassas on July 7. Three nights later he started 15th and finished an engine-related 23rd on the Bridgehampton road circuit. His breakthrough victory came at Oxford on July 12, when he started on pole and led most of the 300 laps. There was little drama during the race, but just getting to the grid was an adventure.
He remembers it clearly: "My oil pan at Bridgehampton wasn't right, so I lost oil pressure whenever I made a right-hand turn," he recent told Autoweek in a soft, halting tone. "It took only a couple of rights to burn the rod bearings. But I was so much better than the field-fillers that I could pit, work on the engine, replace some parts, and go back out. I finished the race, but was out of spare parts. I didn't have anything for the next race at Oxford."
Allison and Chuck Looney, his one-man crew, stopped at a Chevrolet dealership near Boston, hoping to buy a new Corvette short-block assembly. The dealership didn't have one, but took $250 for a used block and new rods and bearings. Later that day Allison and Looney they rented space at another Chevy dealership in Oxford, and worked all night getting the refreshed engine installed in their '65 Chevelle.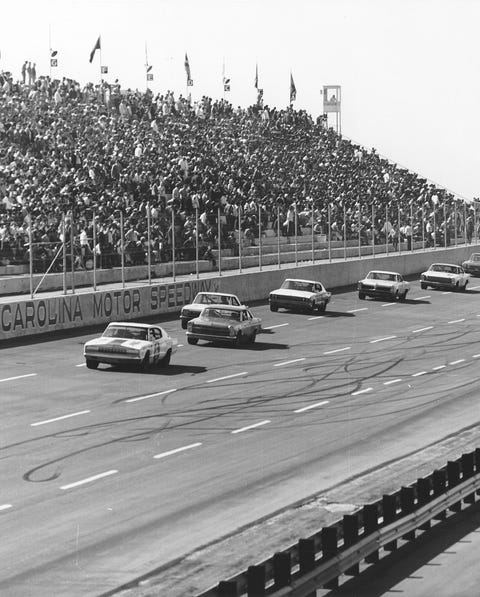 "That's how we sometimes had to do things back then," Allison said. "Well, at least some of us had to do things that way. But we wouldn't have made that race if we hadn't done all that. I knew the car would be pretty good after a few practice laps, and it was. (He led the final 238 laps and lapped the field). And let me tell you: winning in Cup was everything I'd dreamed and thought it would be. I'd always known I could do it because I'd beaten up on some pretty big Modified names getting to Cup. Oxford was a big, big deal for me. I celebrated by finally going to bed."
He finished the tour with a crash-related 27th at Fonda, then won again two days later at Islip. He got his third career victory a month later by starting on pole and winning easily at Beltsville, Maryland, a Washington suburb. For the most part, the rest of his NASCAR successes were more newsworthy.
His first superspeedway victory—his eighth overall—came for Holman-Moody Racing in October of 1967 at Rockingham, N.C. There was a five-week stretch in the summer of 1971 when he won on consecutive weekends at Charlotte, Dover, Michigan, Riverside, and Houston. He had consecutive 10-victory seasons in 1971-1972, and won at least once a year for 20 of his 25 Cup seasons. In addition to his 84 victories, he had 59 poles and 252 more top-5 finishes in 718 starts.
Sadly, he has no recollection of what he calls his favorite victory, the 1-2 finish with Davey in the 1988 Daytona 500.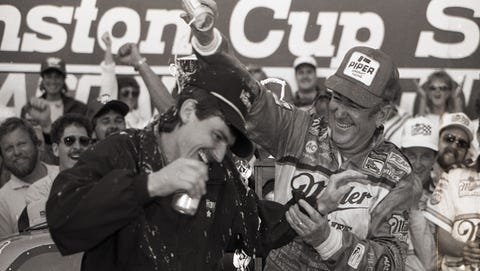 "I've got all kinds of proof that Davey was second to me that day, but I can't tell you anything about it," he says. "I've seen pictures of me and him pouring beer on each other (in victory lane). I've watched the television tapes and I've read all about it over and over. It's funny how I remember things that happened around that day, but nothing about the race. I really, really wish I did."
"It's funny how I remember things that happened around that day, but nothing about the race."
He found success with many of NASCAR's top owners: Cotton Owens, Holman-Moody, Richard Howard, Roger Penske, Bud Moore, DiGard Racing, and Harry Ranier. He won in Fords, Chevrolets, Matadors, Mercuries, Dodges, and Plymouths. He was in the No. 12 Miller-sponsored Buick for Billy and Mickey Stavola when he crashed at Pocono.
Despite the tragedies, Allison has never questioned his faith. "I don't get angry because Jesus Christ is my Savior," he says when asked what keeps him strong. "When Clifford died, I asked my mother how she did it. How did she hold up after losing five of her own (13) children, including two babies and a teenager? She said something that really, really helped me. She said, 'I just gave them back to God.'
"Now, how wonderful is that?"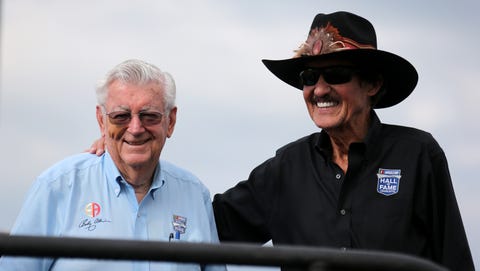 But wait … there's more
• The was a time when Allison briefly raced in South Florida under the name "Bob Sunderman." When his father discovered the deception, he gave racing his blessing … but only if Bobby honored the family by using his own name.
• Allison was among the first drivers to embrace piloting his own plane to meet his crowded racing schedule. He once flew into and left Daytona Beach by using the backstretch of Daytona International Speedway as his runway.
• Even though Tiny Lund is credited with two 1971 Cup Series victories driving a Grand American Camaro, NASCAR has inexplicably refused to credit Allison's victory in a Mustang that same summer at Winston-Salem, N.C. His career total of 84 is tied for third all-time with fellow retired Hall of Fame driver Darrell Waltrip.
• Allison's 84 Cup victories came with 13 owners, among them Hall of Famers Cotton Owens, Roger Penske, and Bud Moore. His 1983 championship came with DiGard Racing owners Bill Gardner and Mike DiProspero. Ironically, their team's startup driver had been Donnie Allison, who was 0-for-45 for DiGard in 1973-1975.
• Of Allison's victories, only one—at Savannah, Ga. in 1967—was on dirt. He won six road races, 31 on short tracks, 19 on speedways longer than two miles, and 28 on tracks between a mile and two miles.
Source: Read Full Article