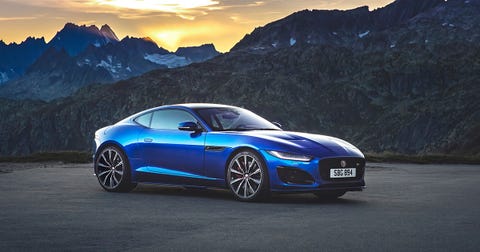 The F-Type Flaunts a New Face but Still Burbles and Coughs
It's hard to improve on Ian Callum's original Jaguar F-Type design. Even though it's been around for seven years as a production car, it's still gorgeous. Jag is taking a stab at it though, offering for 2021 a mid-cycle update including a new hood, revised taillights that give it a bit of an an I-Pace look and new, slimmer headlights mounted lower. The front bumper is new with a new grille and new grille pattern. The surround can be either satin or black depending on options.
So Jaguar didn't mess with the elegant exterior too much. Smart.
There's, again, a choice of four-, six- or eight-cylinder engines making 296 hp, 380 hp and 575 hp, respectively. And eight-speed automatic transmissions with paddle shifters are standard across the board (no more manual). The four banger hits 60 mph in a respectable 5.4 seconds, while the supercharged V8 I'm driving in the F-Type R knocks it down to 3.5 seconds. Expect the all-wheel-drive V6 model to land somewhere in between.
There are new calibrations for the car's steering, the Intelligent Driveline Dynamics, electronic rear axle differential and stability control. The rear suspension knuckles are new too, with larger wheel bearings along with revised upper ball joints. Jaguar also changed the antiroll bars and springs. The dampers are the same, but the valving is different. The tires are wider, and the wheels are new.
Inside the two seater is a 12.3 inch, high-def, TFT instrument cluster and a new 10.0-inch touchscreen in the center of the dash. The InControl Pro infotainment software is updated.
My first thought after sliding behind the wheel is 'welp, the cockpit is still tight, and perhaps a bit too tight.' After a couple hours behind the wheel I found myself ready for a rest. Build quality is inconsistent. The leathers are nice but some of the plastics look and feel cheap.
My second thought? The blown V8 is a beast and sounds sensational going about its business. It burbles and coughs (pleasantly) at idle and cracks and roars through the rev range. It also happens to produce 575 hp. Combine that with instantaneous throttle response and all-wheel drive and it's hang on baby! This engine in this car is just exhilarating — a perfect way to fight trapped-at-home boredom.
According to Jaguar the suspension changes I mention above have been made to improve the coupe's ride and steering feel. The ride does feel a bit softer but could be softer still (keeping in mind this is Detroit). And Jag would do well to take a bit more twitchiness out of the steering, something I said often about the last F-Type. There's plenty of grip, but the whole experience could use a bit more composure.
Keep in mind this is the most extreme F-Type, costing $115K. I'd like to drive the four cylinder version. I'm sure it's a much calmer proposition and in fact starting at $61,000 is the better selling F-Type.
That's not to say I don't appreciate the R's raucousness. In fact with Jag looking like it's going to join the herd and go more EV beyond the iPace — the next XJ is an EV — I'll take all the horsepower I can get, while it lasts.
What do you think of Jaguar's updates to the F-Type? Was improving the ride the right call? I need to know! Sign up and leave comments below.
Source: Read Full Article