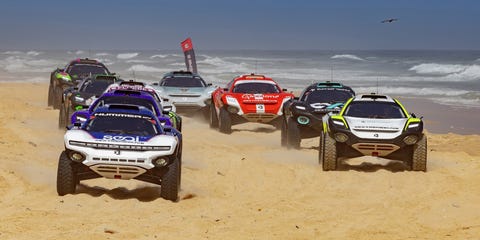 Course advisers and back-up drivers Timo Scheider and Jutta Kleinschmidt made sure that about the only thing the May 28-30 Extreme E Series Ocean X Prix weekend has in common with its April inaugural in Saudi Arabia is its sandy racing surface.
Lac Rose, Dakar, Senegal, provides a stunning Atlantic Ocean panorama for the climate-change-driven electric off-road racing series. But forget sightseeing. This 3.9-mile (6.3-kilometer) course has some challenging differences.
Check out some of the race particulars and TV information the all-electric Odyssey 21 SUVs will have to master, as well as a few intriguing facts about this second of five races on the tour: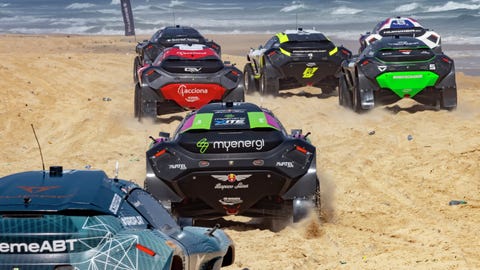 Expect to see more passing and closer racing. Course advisor Jutta Kleinschmidt said, "it's very technical and completely different to what we faced in Saudi Arabia. It's also slower but gives more options for overtaking as there are many racing lines, which will make the Final very interesting."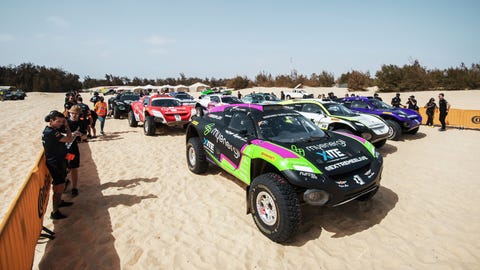 "The aim was to have a more technical layout with more overtaking possibilities and average-to-low-speed areas," back-up driver Timo Scheider said. "We have some tricky areas, so for sure you have to manage your speed. And we still have areas where you have to pay attention to, because if you're too quick on some stages, you can damage your car, spin, or even roll.
"The Ocean X Prix starts on the beach, but this fast section will demand the drivers' attention before they turn inland and onto the more challenging segment that takes them into obstacles that include short, sharp elevation and directional changes. It's all vastly different from the long, sweeping, full-throttle sections of Saudi Arabia's Al'Ula desert. This course has fewer elevation changes but more short drops and sharp rises."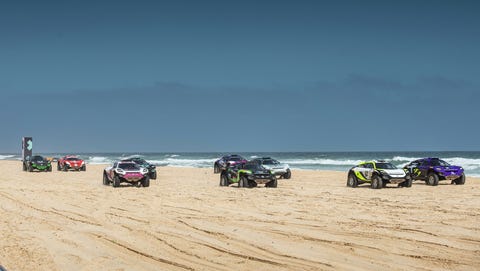 This is the middle section of the course—and navigating it fastest throughout the weekend can give a one-man-and-one-woman team five bonus points.
In this stretch, the route crosses close to the main paddock area and heads to the other side of the course, where the sand becomes softer and will include more small dips and drops before drivers re-enter the beachfront that runs along the picturesque turquoise sea.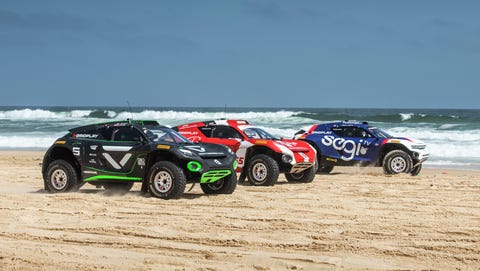 Like the first race in Saudi Arabia, the Ocean X Prix field will consist of nine teams and 18 drivers. But this time, the Final will be a four-car battle, instead of three, with two teams from each of the two semifinals advancing.
And the format still calls for two qualifying rounds Saturday, with team starting order decided by a draw. All races are two laps long, including the driver switch.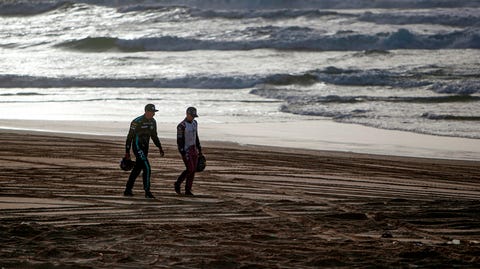 Ocean health will be the focus of this race on the purpose-driven series.
This beach and the community of Lac Rose, once a tourist hotspot but now a vulnerable region, faces a plastic-pollution problem, which will be unavoidable to see as teams race. To improve the area and demonstrate the positive impact, Extreme E has been working with local communities for the past 18 months to implement its Legacy Programs. It has undertaken a mangrove-reforestation project to help counter sea-level rise, plastic pollution, and rising ocean temperatures.
Furthermore, it has engaged with local communities to push for a healthy environment, complete with self-sufficiency and economic autonomy. Among the activities Extreme E has immersed itself in are fashioning bricks for construction from plastic waste. The area's 3,000 school children so far have made more than 6,000 bricks (at school and at home, spreading the message to families).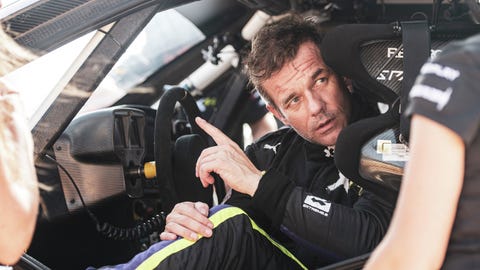 The format for Sunday's race day is as follows:
• The teams will be listed 1st to 9th place based on the total combined time of each team's two qualifying runs.
• The top three teams go into the Semiifinal 1, where the top two finishers claim spots in the Ocean X Prix Final.
• The middle three teams (4th, 5th, 6th) go through to Semi-Final 2, where again the top two progress to the Ocean X Prix Final.
• The bottom three teams (7th, 8th and 9th) head to the Shoot Out.
• The Ocean X Prix Final features four cars—the top two finishers from each Semi-Final.
• Teams can also benefit from a HyperDrive boost available to each driver on each lap of the race. Activated when the driver presses a button on the steering wheel, they will enjoy an extra push of continuous power for a few seconds.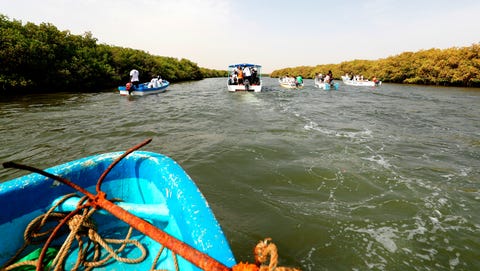 Lac Rose (Pink Lake) takes its name from its striking color that's caused by algae that thrives in its highly saline waters.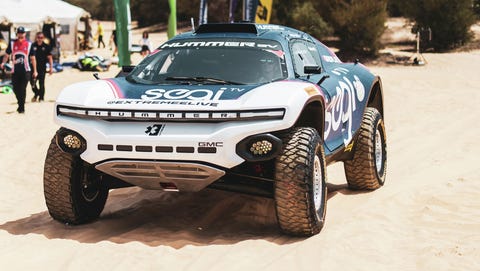 In some British royal family news that doesn't involve Prince Harry and Meghan Markle, Extreme E conducted a masterclass in electric racing for Prince William at Knockhill Racing Circuit in Scotland.
The test drive was organized ahead of the 26th U.N. Climate Change Conference, which will take place in November at Glasgow. The Duke and Duchess of Cambridge included this meeting while visiting innovative projects in Scotland that aim to mitigate global climate damage.
Prince William learned about the series' electrification, environment, and equality background and got a complete look at Extreme E's hydrogen fuel cell. It was manufactured in collaboration with British-based AFC Energy, and it charges its electric race fleet using zero-emission energy.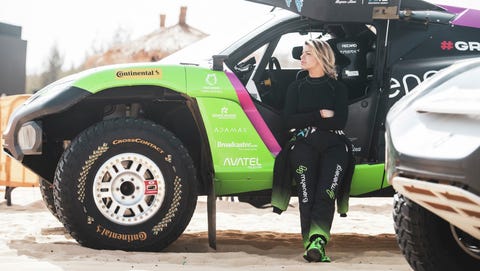 Jenson Button has replaced himself on his JBXE Team for this race with Kevin Hansen, brother of Andretti United driver Timmy Hansen.
And Oliver Bennett and Christine Giampaoli Zonca (pictured) and the Hispano Suiza Xite Energy Team have joined the series.
The world-class team and driver line-up looks like this:
ABT Cupra XE – #125 – Mattias Ekström / Claudia Hürtgen
Acciona | Sainz XE Team – #55 – Carlos Sainz / Laia Sanz
Andretti United – #23 – Timmy Hansen / Catie Munnings
Segi TV Chip Ganassi Racing – #99 – Kyle LeDuc / Sara Price
Hispano Xite Energy Racing – #42 – Oliver Bennett / Christine Giampaoli Zonca
JBXE – #22 – Kevin Hansen / Mikaela Åhlin-Kottulinsky Rosberg
X Racing – #6 – Johan Kristoffersson / Molly Taylor
Veloce Racing – #5 – Stéphane Sarrazin / Jamie Chadwick
X44 – #44 – Sébastien Loeb / Cristina Gutiérrez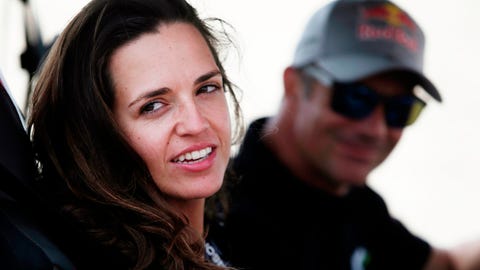 Shakedown and qualifications will be aired through Extreme E's official website – www.extreme-e.com and social-media channels (@extremeelive on YouTube, Instagram, Facebook, Twitter and Twitch).
CLICK HERE FOR RACING ON TV SCHEDULE FOR MEMORIAL DAY WEEKEND

The Finals will be shown in more than 180 countries by 75 broadcasters. In the U.S., it will be broadcast on Fox Sports network.
Source: Read Full Article