Apple CarPlay allows users to safely use many of the features of their iPhone while driving – this is our guide on what it is and how it works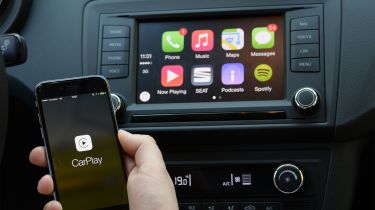 Apple CarPlay is Apple's in-house software for pairing an iPhone with a car's infotainment system. From economical superminis to luxurious executive saloons, Apple CarPlay is now being offered as standard or as a fitted extra on an increasing number of cars – meaning it's easier than ever to connect your phone to your car, while being able to use wide selection of apps through the touchscreen, steering wheel controls, and even voice recognition system. 
But what is Apple CarPlay, how does it work and what are the benefits? Our handy guide takes you through the features.
What is Apple CarPlay?
By creating its own user interface for iPhones in cars, Apple's CarPlay system aims to make using your iPhone's features as safe and straightforward as possible when behind the wheel. Along with the ability to make phone calls, send messages and look up contacts, Apple CarPlay lets you access your music through Apple Music or third party apps such as Spotify.
What is Android Auto? Full review and user guide
You can also use navigation apps such as Apple Maps, Waze or Google Maps. Not all apps are available, though, with only those being deemed safe to use while driving being accessible – meaning apps like YouTube, or games, are off limits.
What are the benefits of Apple CarPlay?
A key benefit of using Apple CarPlay is that it's simple to connect your device to your car. The interface is really simple and easy to use on the move, and apps used within the system are connected to the internet and being updated regularly. This is particularly beneficial when using navigation apps, as these are able to display up-to-date traffic information and can even alter your route to avoid the resulting delays.
Many manufacturers like Toyota, Mercedes, Volkswagen and Ford provide their own infotainment operating systems, which offers smartphone connectivity, although Apple CarPlay often features alongside this manufacturer software and the over-the-air updates can quickly make other pre-installed systems look outdated, although over-the-air software updates are becoming more widely supported by car manufacturers.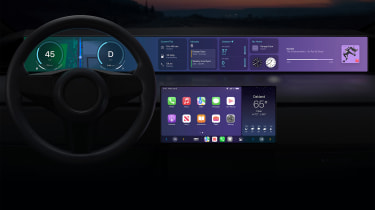 The display should feel very natural to iPhone users, as the screen is easily laid out and the app icons are easy to use and navigate while behind the wheel, but Apple CarPlay's functionality is not just limited to a car's main infotainment screen. A major update was introduced in 2023 increased the functionality of Apple CarPlay to include all driver display screens. This new setup can include dashboard readouts, alongside customisable widgets which appear in front of the driver, such as in the drivers display on digital dashboards and virtual cockpits. Only eligible models will receive this upgrade, though, with Volvo being one of the first manufacturers to confirm that its cars will use this new system.
If you're an Android phone user you won't be able to use Apple CarPlay with your device, but Google's Android Auto system will allow you to access many of the same functions. Asking which is better in the great Carplay/Android debate is a bit like choosing between BMW or Mercedes. They're both great, just a bit different, and whichever phone system you prefer will determine whether Carplay or Android Auto is best for you.
How do I connect my iPhone to work with Apple CarPlay?
Using CarPlay is pretty effortless and you can connect your iPhone (or even iPad) to your car in an instant. All CarPlay systems can be connected via the car's USB or USB-C socket, and an increasing number of cars now offer a wireless connection, too. Once you're connected just follow the brief on-screen instructions asking you to unlock your phone. This will permit CarPlay to access it, and then you'll be ready to roll. You will only need to do this once as your iPhone will log the connection you've made to your car, so that the next time you connect, it will start working automatically.
Best wireless charger phone holders 2022
When you connect CarPlay, the car's infotainment screen will show a menu of the compatible apps on your iPhone. This includes pre-installed iPhone apps such as Phone, Music, Maps, Messaging, Audiobooks and Podcasts. Third-party apps such as WhatsApp or Spotify can also be accessed.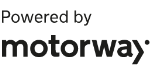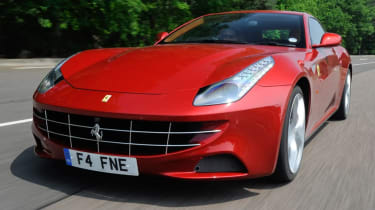 If you're not in the market for a new car, but would like to upgrade your car's infotainment system you can also buy aftermarket navigation/audio head units that are pre-loaded with CarPlay – reputable manufacturers such as Alpine, Sony, JVC, Pioneer and Kenwood all offer compatible head units.
Some manufacturers like Tesla or Rivian don't offer Apple CarPlay or Android Auto with their vehicles, opting to use their own operating systems and software.
Apple CarPlay versus Android Auto review – which is better?
The basic features of the two rival systems are broadly similar, but dedicated iPhone users will prefer the simple and refined CarPlay interface, which mimics the look and feel of an iPhone.
Android Auto uses the live update card information system used by Google Now.
Music features naturally reflect the systems' origins too – so CarPlay uses Music (formerly iTunes) but also connects to Dash Radio, Stitcher and Audible, while Android Auto leads with Google Play Music, but also enables Spotify and Radioplayer.
What is Waze? The phone navigation app explained
Both rival systems handle navigation and mapping effectively, but many users will be instantly more comfortable with Android Auto's Google Maps system, as it's so familiar from their desktops.
Apple CarPlay versus Android Auto review – verdict
In terms of functionality the two systems are very similar, but CarPlay focuses on simple, clean, intuitive user journeys while Android Auto's strength is a more open platform for third-party apps and content. Apple is continuing to open up CarPlay to be compatible with more third-party apps, though.
Tell us about your experiences with Apple CarPlay in the comments section below…
Source: Read Full Article