Cupra's sleek all-electric DarkRebel concept car is influenced by video gaming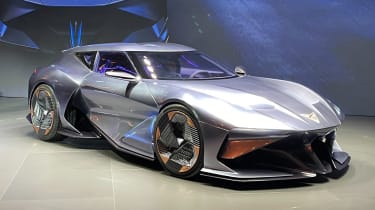 We've seen the new Cupra DarkRebel in virtual form for a while now, but now the brand has brought along a physical version of its concept car to the Munich Motor Show. 
The DarkRebel is an all-electric shooting-brake that has been designed with the help of 270,000 configurations of Cupra's 'Tribe' and the brand's celebrity ambassadors. There are no plans in place to create a production version of the DarkRebel, although in recent years we've seen Cupra transform the UrbanRebel to the similarly-shaped Raval. 
New Cupra Tavascan: specs, powertrains and 2024 release date
Despite its wild styling, the concept shares plenty of design details with Cupra production cars. The three-triangle headlight signature and the illuminated Cupra logo on the rear light bar are reminiscent of the Tavascan. Other signature Cupra traits, including heavily sculpted bodywork and plenty of copper accents. 
At 4.5 metres in length and 2.2 metres wide, the DarkRebel has plenty of presence with its long, loping bonnet and stubby rear end. "The Cupra DarkRebel represents all of the brand's DNA and values. With wider shoulders, a long bonnet and lower cabin, it is focused on the driver", said Cupra Design Director Jorge Diez.
There's no mention of the battery or indeed any performance figures for the concept. Although Cupra CEO Wayne Griffiths says "it is a rebel with a purpose: to prove that electric cars in the future can be sporty, sexy, and emotional."
Inside, the driver and passenger are separated by a central spine, much like in the Tavascan. There's also sporty bucket seats and a 'gamifying steering wheel'. The minimalist cockpit features a driver's screen and a 3D customisable avatar on the top of the dash. 
What do you think of the DarkRebel? Let us know in the comments…
Source: Read Full Article