Kia's EV Day plays host to a bunch of new models including a precursor to the EV4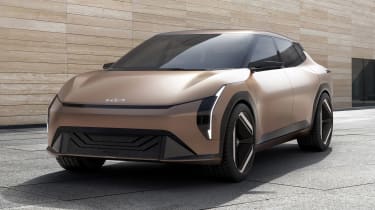 Kia has stepped into new territory and unveiled its plans for an all-electric saloon, showing them off with the EV4 Concept. We can expect the production-ready version of EV4 on the road by 2025. 
By the time we see the Kia EV4 hit showrooms it'll have plenty of competition. The Tesla Model 3 will have received a facelift, there's also the Polestar 2, BMW i4 and the Ioniq 6 from Kia's sister firm Hyundai. Although this is merely the concept, we expect the production EV4 to look pretty similar – a pattern established by the EV9 and EV5 concepts – which means it'll have plenty of eye-catching design features to help it stand out. 
Kia EV3 Concept previews chunky new electric SUV
Kia says the EV4 is an "entirely new type of EV saloon" and the bodystyle is a balance of four-door saloon and a sleek coupe-SUV. There's a short overhang at the front and a much larger one to the rear, plus a 'floating roof' created by the black pillars all around – a trait of Kia's EV range.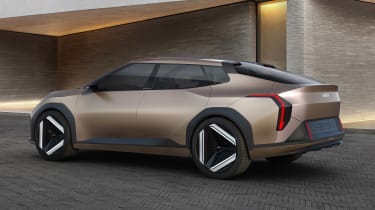 Thin LED lights are also a design feature of Kia EVs and here they sit at the outer edges of the nose, helping to make the car look wider in combination with the contrasting wheel arches. Kia has kept its knack for striking wheel designs, this time featuring a triangular motif. 
The interior looks similar to that of the EV3 Concept and EV9 Concept. The minimalist design helps to create the impression of space and there's no centre console separating the footwells for the front occupants. A huge dash-mounted dual screen will be able to utilise AI generative technology – helping the driver with day-to-day functions such as scheduling and improving the car's efficiency through route planning and charging. 
The similarly-sized Ioniq 6 uses the same E-GMP architecture as the Kia EV6 and we expect this to underpin the EV4. A 77.4kWh battery powers every Ioniq 6 with up to 338 miles of range available. Given that the newly updated Model 3 Long Range can do 391 miles on a charge, the EV4's powertrain might be tweaked to improve further over the Ioniq 6's figures by the time the car launches in 2025. 
Click here for our list of the best electric cars on sale right now…
Source: Read Full Article