The "Little G" will join the Mercedes range and has been teased ahead of its official arrival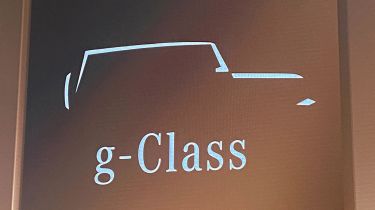 Mercedes has dropped its first official teaser of a new G-Class variant, referred to as "Little G". Judging by the outline of the teaser image, we expect the new car to take on a similar old-school design of the current G-Class. 
Revealed at the launch of the Concept CLA Class, Mercedes CEO Ola Kallenius unveiled what he called "Little G" – a car that will take the character of the big and brash G-Class and condense it down into a more compact package. 
Facelifted 2023 Mercedes G-Class spotted in production bodywork
Aside from Mercedes' plans to build a smaller G-Class, not much has been confirmed about the "Little G". From the teaser image we can see it retains the boxy silhouette of the G-Class with the traditional boot-mounted spare wheel. 
We'll find out if the smaller car will take on the same platform as the G-Class at a later date, but we expect it to come with the option of pure-electric power, with technology shared with the upcoming EQG. 
Four-wheel drive will be a given for the "Little G" and given its smaller proportions it'll undercut the current G-Class in cost by some margin, providing a closer rival to the likes of the Jeep Wrangler and lower-spec versions of the Land Rover Defender.
Click here for all the latest from the 2023 Munich Motor Show…
Source: Read Full Article