I managed to achieve an average of 93Wh/km, factoring the average cost of electricity across all charging sessions, cost per km was 1.95 rupee.
BHPian thilak29 recently shared this with other enthusiasts.
Preface – In July, MD (When 17 cars get drenched in the rains | 2000 km journey to the Konkan coast | Monsoon Drive 2023) helped me explore some beautiful stretches in the Konkan region, however the itch to travel was not satisfied completely. I was looking for an opportunity and that neatly landed on my lap. I work remotely on most days of the month and visit the office for some days for in person interactions, so there came the need to be in office around the 21st of Aug. The previous week also happened to be a long one. So, I decided to take a long drive from Puttur (a small town on the coastal belt of KA) to Bangalore. Instead of taking a routine route via Hassan, the idea was to take a longer one, really long!
Vehicle – Back in April, I did a Puttur – Hyderabad drive in Compass, this car is a good highway rider, munches miles well and feels comfortable onboard. I took delivery of Tiago EV around mid-March. Since then, I have done multiple trips to Bangalore in this and even been to Pondicherry recently. This car has its fair share of positives and limitations of its own. I felt a long drive in an EV could be an enjoyable experience to have, mostly seen as an experiment with potentially uncertain outcomes. Finally, the choice was the Tigao EV. The day before the journey the car was washed, minor DIY detailing and charged to the brim at home.
Intent – Old things charm me, things stuck in time or ones that act as time capsules/vehicles to take us back to a time when realities were different.
I have been planning a visit to Thanjavur for many months, for various reasons it just did not materialise despite best efforts. After watching the Ponniyin Selvan series of movies, this urge only became stronger. The other place which caught my attention is Karaikudi/Chettinad belt. The business adventure stories (stretching to far regions like Burma) of people from this part have engaged me in the past.
So, Thanjavur and Chettinad were central to travel, and any other interesting place around them were considered too.
Route –
Plugshare is that tool which EV owners rely on to plan their travel by meeting charging requirements. It's a simple app/web interface offering enough inputs to have fairly reliable route planning. I spent couple of hours and finalised this route –
Home – Palakkad (via Kozhikode) – Madurai(via Palani) – Chettinad – Thanjavur – Trichy – Mahabalipuram – Kanchi – Bangalore (via Krishnagiri) <few days in Bangalore > – Hassan – Home
Here is the route map: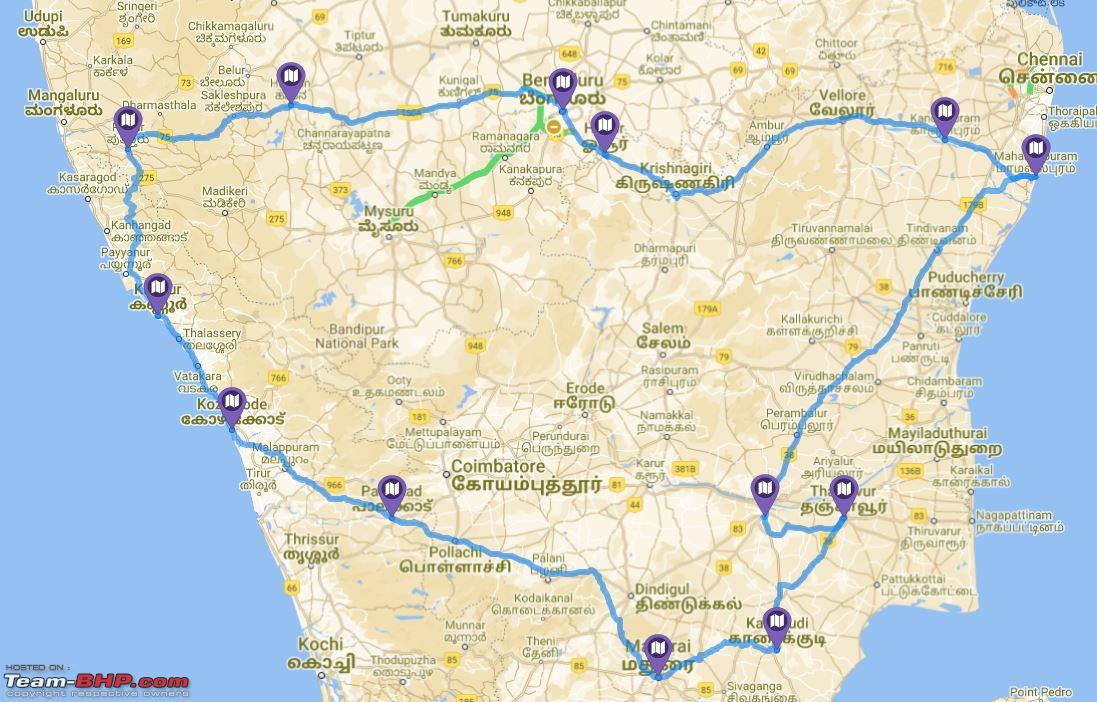 Itinerary –
Day 1:
I started early (just before 5AM) as I had a longer distance to cover. The first stop for charging was at Kannur (GO EC), a marked site on the premise of a mall. I initiated charging and headed for a place to have breakfast, Indian Coffee House about half a km away. Tasty food, decent coffee. When I reached the car, it had charged to 90% and I decided not to wait further (the last 10% usually takes longer as charging rate significantly reduces to enable thermal and cell balancing activities). I had marked another charger at Perintalmanna (from GO EC), as I reached closer, I noticed the charger was occupied (app shows the status) and this town had a couple of other chargers to choose from, based on proximity I set destination to an EESL (Govt. entity) run charger. The site of this charger left me surprised – in the middle (literally) of a busy private bus stand (see pic). I initiated charging and started scouting for a good place that serves a good Avil Milk. After finding one and relishing it, I noticed the car was about to reach 85% and I made it back to the charging station to see curious peepers around the car. I disconnected the charger and set Palakkad as my lunch venue (with a charger, Go EC again). The drive to Palakkad was nicer than what I had experienced since entering Kerala. I reached the lunch venue (closer to 3PM, rather late for lunch, I know! But Avil Milk was heavy with all the rich fillings!). At this place, my aim was to get the car fully charged as the road ahead involves inclined elevation and there is going to be higher charge consumption. Restaurant had only North Indian curries and Kerala Parotta to offer that late (BTW- never understood the logic of not offering local curries with local breads!), lunch and a mocktail in and I was out of the restaurant. This location was like ones you notice in western countries where a stopover place has stores, restaurants, kids play areas, restrooms within a compound (of course this had EV chargers too). We need more of this! After some strolling, answering a few questions on charging from strangers, and helping a fellow EV owner figure out the charging process using the second gun, Tiago reached 100% levels. Next planned stop for a quick top up was Palani. There were two chargers in this holy town (run by Relux and Zeon individually). Zeon showed offline, tried calling their customer care, calls were not connecting at all despite repeated tries. I sent them a Whatsapp to know if there is any issue at their Palani site. I kept driving towards Pollachi and that evening drive was one of the best I have experienced recently. Top class roads, coconut groves on both sides, minimal traffic to encounter. This joy of driving was interrupted by a call from Zeon who informed me that the site will be under maintenance for the next two days. I knew at that moment; this wasn't a good sign. I exited Pollachi town and parked on the kerbside to look at options at hand.
Option 1 – Continue to Palani, hoping Relux charger is available (may be with some waiting)
Option 2 – Drive Dindigul and top up there (slight risk of experiencing limp mode)
I took my chances and decided to head to Palani. Sun gradually changed the hues in the sky, tall windmills on both sides of the road began to appear and disappear, roads were wider and very well laid. Somehow my mind was numb to these changes and kept wondering "What if?" and I still had about 180 kms cover for the day.
The Relux charger continuously appears busy. I still decided to take a diversion from the highway and drove towards the Relux charger site in Palani. Town was very crowded (for the weekend or for some religious reason?) The charger was set up right at the foot hill entry to the temple. A BYD Atto was plugged in and there were 5 Nexons in the queue for this charger. That sight made me realise, 'What if' is now a harsher reality to reckon. I did a quick calculation to see if I could make it to Madurai comfortably, the answer was no. I called up Tata in Dindigul to understand if they allow charging post business hours, they said yes! I was happy and the well-lit hills of Palani appeared even more beautiful than I found a few moments ago. By entering Palani and exiting it, I clearly lost some range. Now I had to drive conservatively, stay frugal for the next sixty-five kms to avoid limp mode on a highway. That is exactly what I did and reached the Tata charger in Dindigul, I put it to charge up and called the Hotel I had booked to inform about late check in. I pushed back and took a good nap. I woke up to the knocks on the windows, disoriented with an unexpected wake call, asked that stranger if something was wrong? He politely apologized for waking me up and asked if he could use the charger if my needs were met. Dashboard indicated 85% and charging, I happily agreed and moved on.
The drive to the hotel in Madurai was pleasant and I checked in. Before I checked in, I glanced at the trip reading.
Total Drive: 590 km
Duration: 16 hours (Google map says typical time is 14 hours, not bad, eh?)
Day 2 :
Plan for the day was to visit Chettinad and Athangudi. Courtyard by Marriott in Madurai had a Charge Zone set up, while the car got charged and spent time on breakfast.
My first destination was Athangudi Palace. Palace is situated in the middle of nowhere in a village, this place is popular for its unique designer floor tiles. Palace access was limited to a few portions, however whatever I saw was indeed beautiful. I stepped out and strolled the streets of the village to find a couple of antique shops and shops with woodwork on display.
On my way to this palace, I noticed a few huts preparing tiles and packing them (it was Sunday!)
On my way out I stopped at one of such huts to see them at work. The person kindly invited me inside and explained to me the entire process with a demo. As I was about to leave, he handed me over his cards and mentioned he has a YouTube channel highlighting designs and work, impressive!
I left Athangudi and reached Kanadukathan village. This village is full of deserted palatial buildings with planned,marked streets. I parked my car and took a long walk around this village only to find myself astonished. So many abandoned structures (some are being renovated or partly occupied with small commercial establishments) in a few blocks of this area. Beautiful buildings, well laid townships, large courtyards – indeed tragic.
I found a nice restaurant built in a renovated structure. The restaurant had just opened for lunch. The food was not ready, that gave me ample time to experience the beauty of that building and interiors. I relished a delicious Chettinad vegetarian thali, and it was the best one I had in recent times.
Post lunch I visited a couple of handicraft shops and liked a few of their works, ending up buying them.
Next in plan was to visit Karaikudi town to visit antique stores, Google said, being Sunday, most shops will be closed. I missed this detail during the planning of this day's itinerary. I headed back to Madurai, an enjoyable drive except for the blaring sun. I noticed EV efficiency dropped, possibly to keep the car cabin and battery at optimal temperature.
Back in Madurai, headed back to the hotel, parked the car and headed for a walk. I took interest in a couple of eateries around, tasted local snacks and tried a popular drink called jigarthanda in a shop serving this for the last five decades (not impressed)!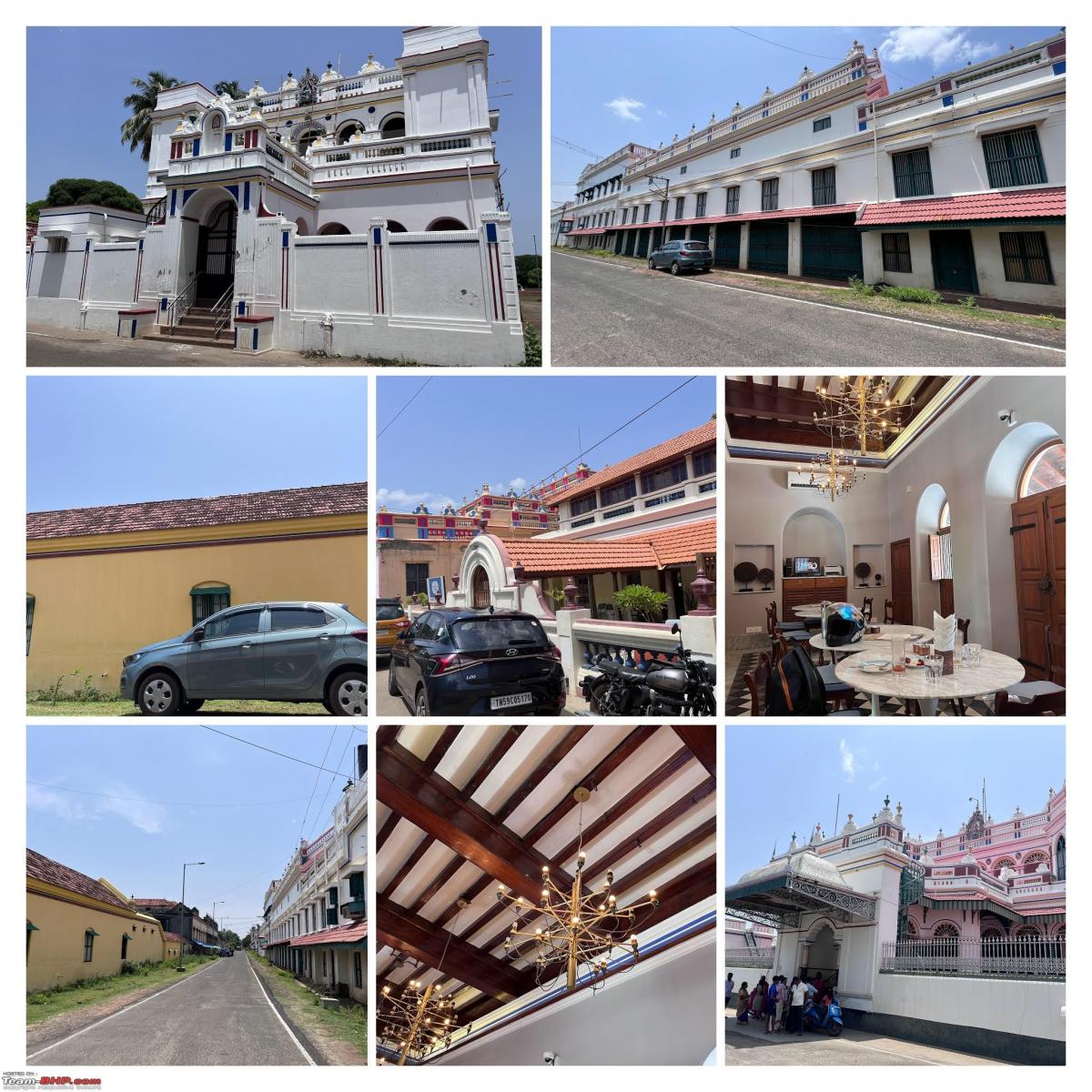 Day 3
Visit to Madurai is incomplete without visiting Meenakshi Temple; I personally prefer visiting temples early in the mornings for the serene experience it offers. After I had returned from Chettinad drive, the car was not charged. Since I left home, the car was getting charged with fast chargers only, I wanted to break that cycle with a slow charging session. I had noted two Zeon chargers within a couple of kms of range where I could get this done. Both locations were within premises of prominent hotels, around 4 AM I checked out from my hotel and the car had 13% of charge left. I visited the charging point (JC Residency) and found it occupied with an ICE car parked. Security refused to move the car stating there was limited parking space at their hotel. He even tried to falsely claim that the charger was out of order, which was not the case. I left that place and headed to the other one (Regency), I left the car to charge. The car indicated that it may need approx. 4.5 hours for slow charging to complete, I was in no hurry either. Temple of few kms away and I hopped on to an Auto. Being a popular temple, there was some crowd already, the entire temple complex was imposing. After some wait, I entered the temple's sanctum sanctorum. After darshan, I roamed the temple complex to experience its vastness and beauty. I left the temple complex, looked up Google for a good breakfast joint and found one. A good long walk and tasty food there made it all worth it. The car was showing inching towards 90 plus SOC and I headed back to the place where it was parked all this while. As there were a few more minutes left for it to reach 100% level, I began planning the day (possible charging stops, place of interest, hotel check ins etc.), the next destination was Trichy.
Driving to Trichy from Madurai involves some extremely good roads and beautiful recurring landscapes I have experienced. After a couple of hours of driving, time to charge and take a break. I reached Trichy and completed the check-in formalities at the hotel I booked and without wasting much time, I headed to Thanjavur. When I reached, it was past my typical lunch hour, I looked up for a good place to find a popular one and reached to find it crowded, waited a bit and the meal was delicious.
Next stop was a handicrafts shop run by TN Govt, near the restaurant where I had my lunch. I made some purchases and asked the store manager if he was okay with having my car parked in front of their shop for the next couple of hours. He happily agreed (insisted I return before 7 PM though) and I left for a city stroll and reached the magnificent temple of Thanjavur.
Words fail to describe its magnificence. The sheer fact that someone conceived the idea and executed it so well makes my heart swell with pride for the engineering and management skills we natively had many centuries ago to execute projects of this scale.
On my way back I stopped briefly for a charging session and headed back to the hotel.
Day 4
Srirangam is a river island and is famous for the temple with the largest Gopuram in the world. I started at the wee hours after checking out, the drive was short, town was waking up to the smells of flowers and filter coffee. There was some waiting to enter the innermost portion of the temple but nothing discomforting.
After Darshan, I started my drive for the day – Mahabalipuram was the destination. The previous night, I had planned my itinerary in detail with stopovers for charging/food breaks. I reached Mahabalipuram in the afternoon. Since it was Independence Day/Holiday, it felt there was a good number of people in that small quarter of the area. The entire city was choked with traffic and the sun was blasting mercilessly. I had decided to leave my car for a slow charging session at a resort and take a walk to beach side structures. The folks at the resort were friendly and allowed parking/charging.
That day Red Bull had arranged a sea surfing event as well, which had many onlookers. I did not find this place exciting, unsure if it was poor crowd management or scorching heat or the way ASI managed this site. I left Mahabalipuram and drove to Kanchi.
Day 5
As you would have guessed from earlier posts, my morning routine is to visit a prominent temple, so I visited Kanchi temple. The temple is well maintained (must have been renovated) and serene.
I had to reach Bangalore in the afternoon, so I left Kanchi to finish breakfast. There were two routes to opt from, via Hosur or Kolar. Based on charging option availability, I felt Hosur one is better compared to one via Kolar (this route has chargers but not well spread).
I made two stops (Vellore and Krishnagiri) for quick top ups, reached Bangalore. Chennai – Bangalore highway is undergoing maintenance and makeovers at multiple points, so the pace was not that great.
Roads & Drive –
KL is working on widening their highways, state highways were decent but national highways were terrible
In KL, Buses were rash, I wonder why no one protests (considering the state has a thing for protests) for their unsafe driving putting citizens at high risk, I have witnessed so many near misses due to their negligent timing.
Palakkad to Madurai was a beautiful drive to experience with a good mix of roads through the rural setup of Pollachi and good highways.
99% of roads I experienced in TN were in top shape, kudos to those who made this possible, no wonder this state is progressing well.
What I couldn't do –
I wanted to visit Pamban bridge and reach the tip of Dhanushkodi from Madurai. However, two chargers enroute to enable this were not reliable, hence dropped the idea.
Charging experience –
Charging stations (barring one, near Melur) had marked parking and easily accessible.
TN and KL has best charging infra as on date, undisputedly
Chargers were reliable, experienced power outage only once which was restored within a few minutes.
Most use hardware from ABB or Delta, few in KL seem to be China made.
In KL charging costs nearly half much as seen in TN or KA
Have patience to answer questions (most are repetitive to you) from curious individuals
Efficiency & cost –
I managed to achieve an average of 93Wh/km, factoring the average cost of electricity across all charging sessions, cost per km was 1.95 rupee.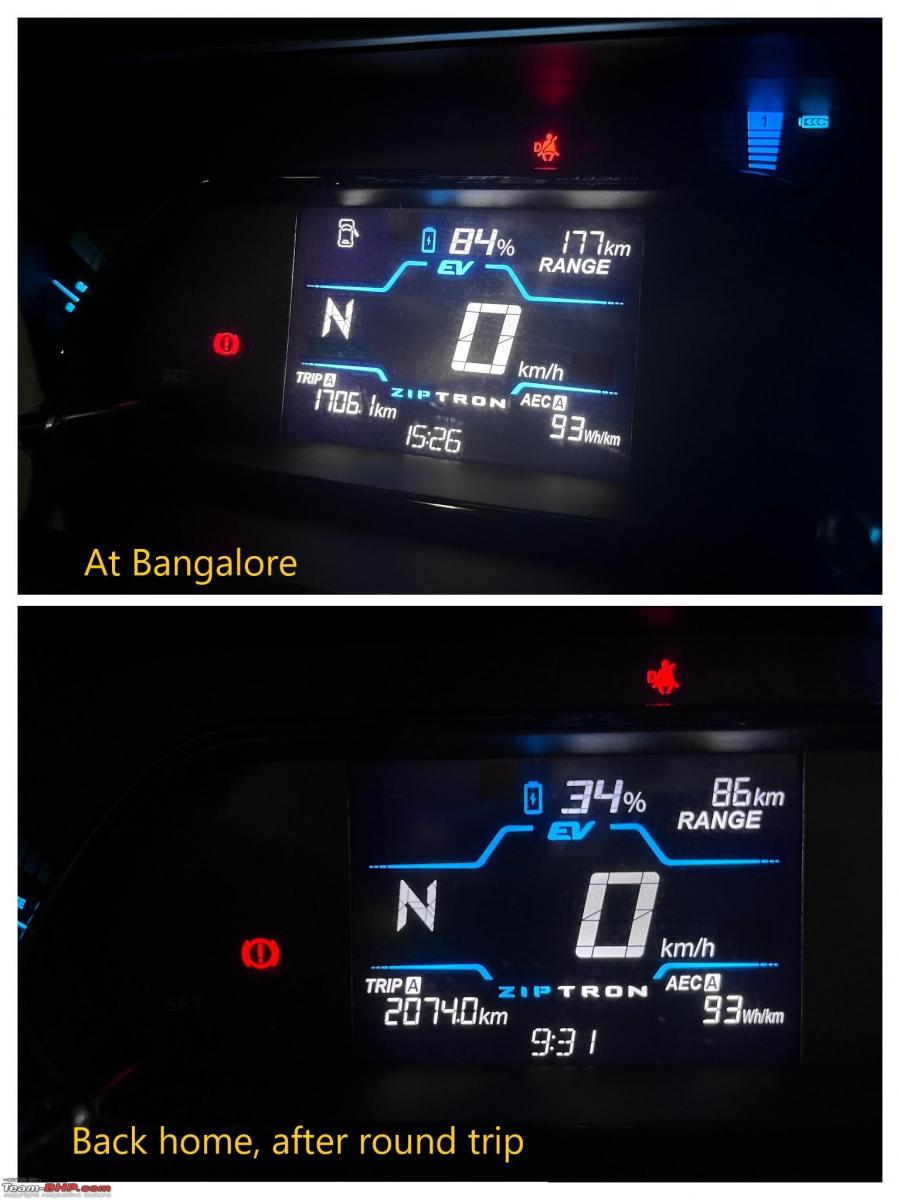 After a couple of days spent in Bangalore, I headed home and when I reached home the trip meter showed above numbers.
That concludes my solo drive in a little EV.
Read BHPian comments for more insights and information.
Source: Read Full Article