I need to take the headache of looking at options to sort out something which is no fault of mine.
BHPian vvivek85 recently shared this with other enthusiasts.
Recently, I encountered a couple of strange issues with my Venue.
The right side high beam wouldn't work after driving with the low beam on for a few minutes.
The rear seat fabric stitching started coming off.
I took my car to Kun Hyundai Ambattur on August 7, 2023, where they duly checked the first issue by taking a short test drive in my presence and acknowledged the issue. As I have taken extended warranty, they agreed to change it in warranty. The warranty person confirmed on raising for approval and the process should be done in 1 to 2 days. I had requested to speed up the process as I wanted this to be done in the week of 7th August as I took personal time off. I didn't get any call that week, I left it as the issue was manageable, but till yesterday I didn't get any call from them. I got irritated and called the erstwhile service manager Mr. Padmanabhan who recently moved to Kun BYD. He is very close to me as all my services were under his supervision, and he immediately ensured the service advisor called me. I was informed the warranty approval was received only the day before yesterday, I can come and change the headlight. I told would try to come this weekend. So I hope this should be closed without any issues.
Now comes the strange 2nd issue, rear seat fabric stitching is coming off. I raised this point as well when I went and they asked me if I had any pets or carried any goods, and I responded with a big No. I was informed this can't be covered under warranty. I asked them to check with Hyundai but the response I got yesterday was negative. This is not acceptable from Hyundai, within 4 years of ownership I am not sure how come stitches can come off just like that. Now, I need to take the headache of looking at options to sort out something which is no fault of mine. I have enclosed the pictures FYR.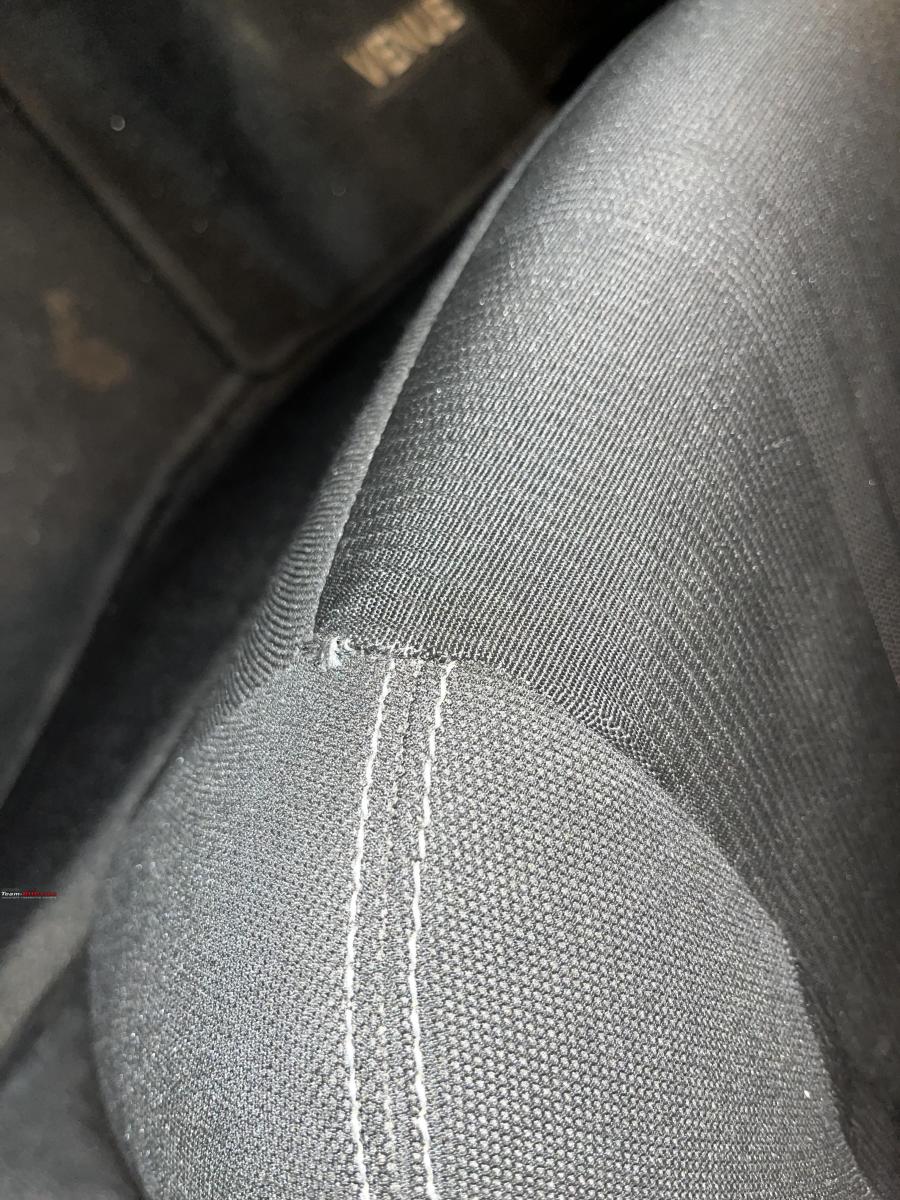 Here's what GTO had to say on the matter:
Unless it is an Ola cab with 200,000 km on the odo and 3,000 rough-use passengers in the rear seat every year, this is rather unacceptable. I have never owned a car whose stitches have come off like this, not even after 8 – 10 years of ownership.

@Vivek, this is unfortunate, but since Hyundai is stubbornly refusing to fix the manufacturing defect, I'd suggest getting it repaired by a competent seat upholstery guy in your city.

Am noticing a lot of cost-cutting in recent Hyundai models which only shows up after 3 – 5 years of ownership. This is yet another case of premature wear & tear.
Here's what BHPian WorkingGuru had to say on the matter:
If it was 4 months then I would consider this as a manufacturing defect, but 4 years is a fairly long time to expect seat cover stitches to be covered under warranty.

Seats are wear and tear items like say the gear knob. While I expect these things to last a long time with normal usage, I wouldn't believe this was any reason to demand a warranty replacement after 4 years.
Check out BHPian comments for more insights and information.
Source: Read Full Article