Substantial updates are inbound for Audi's Q4 e-tron and Q4 e-tron Sportback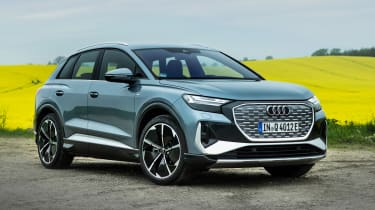 Audi has released a substantial set of upgrades for its Q4 e-tron and Q4 e-tron Sportback twins for the 2024 model year. Having first launched the Q4 electric SUV onto the market in mid-2021, Audi will now offer three powertrain options, all with improved efficiency, electric range and performance. The new models will go on sale at the end of this month, starting at a lower base price of £49,915. 
Across the range, all Q4 e-tron models utilise new permanently synchronous motors (PSM) combined with a 77kWh (usable) battery pack. The new Q4 e-tron range will kick off in a new '45' form, replacing the previous '40' model with an 82bhp power increase for the single, rear-mounted motor, now rated at 282bhp. Performance is significantly improved by reaching 62mph in 6.7 seconds, 1.8 seconds faster than the previous model. Despite all the extra performance, projected range has also risen to 339 miles, 18 miles more than the previous car. Peak charging speed at a DC fast charger is rated at 135kW.
Audi Q4 e-tron 50 quattro: long-term test review
Above this sit two twin-motor options, the Q4 45 and 55 Quattros. They produce 282bhp and 334bhp, and reach 62mph in 6.6 and 5.4 seconds respectively. The latter figure is 0.8 seconds faster than the previous flagship. These two models feature a higher 175kW peak charging speed, going from 10-80 per cent in 29 minutes. 
As well as improvements derived from the new e-motors, the increase in range and performance is also thanks to better thermal management of the battery pack. As well as new pre-conditioning parameters, the batteries now also have a post-conditioning process to help prolong battery health.
Alongside the powertrain updates, Audi's also recalibrated the suspension system, which is available in both standard and Sports specifications. The sports setup sits 15mm lower than the standard, with improvements to both ride and handling on the cards. There's also an adaptive damper option for both versions, each getting their own specific updates. 
The Audi Q4 e-tron range structure will remain similar to the current car, with each powertrain option available in base Sport, S-Line and Black Edition trims. These changes are spread across both the SUV and Sportback body styles.
Want the latest car news in your inbox? Sign up to the free Auto Express email newsletter…
Source: Read Full Article